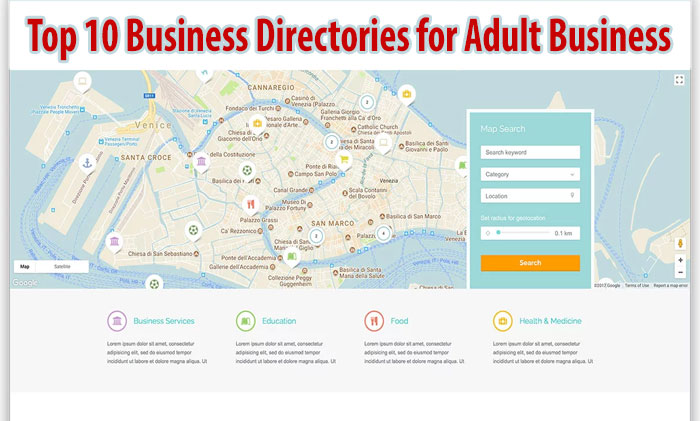 13 May 2019
If you are an agency in the escort business then for sure you need visibility in the escort market. In a place like London, there are hundreds of escort agencies dwelling in every pocket of the city. You may get lost if you do not list your business in the right places. It is of utmost importance that you choose the right directory listing to showcase your business. Whether it is a small agency or a big one, you still need a directory listing service as your partner in your business.
In order to help you, we have provided the best of the top 10 business directories for adult businesses.
business.google.com
Google needs no introduction for any type of services that they offer and it is a default choice for the millions of internet users/traffic. When people search for escort services in London or a business similar to that of yours using Google you are business shows up right there. Google MyBusiness is very easy to use and an effective platform where you can create and update your business profile. This is one of the best ways to stand out in the crowd and attract customers to your business website.
bingplaces.com
Bing Places is also gaining popularity among the business community for online directory listing. The chances are that your business is already listed with them. If so, you can claim the existing profile or you have the option to create a new one for your business. You can also add multiple locations in the same listing using the bulk upload tool.
Yelp.co.uk
Yelp encourages listings for all types of businesses and also allows customers to write reviews about your services on their website. This can help to promote your escort agency in a huge way because Yelp has a large number of people visiting the website and huge web traffic.
YP.com
YP is our good old yellow pages but in a new 'avatar.' It is old wine in a new bottle but with much more advanced capabilities. It shows up your agency, address, phone numbers and also reviews if any. There are still so many people out there who depend on yellow pages and are stuck on the cliché. Also, it is the best platform for local listings.
Mantra.com
Mantra gives you a dedicated page where you can list several things like your address, phone numbers, maps, driving directions and even short blog articles about your business. It is much more elaborate compared to all the other directories so far.
citysearch.com
CitySearch is a city-based directory listing and a visitor can look for escort services based on the cities. So if you have more than one location for your business then make sure that you add it in the relevant city.
merchantcircle.com
Merchant Circle is a directory listing that takes the nature of your business into account. So people looking for adult entertainment will click the relevant option and they can find your business on that page.
ezlocal.com
EZlocal helps businesses achieve top placement on other websites, like Google, Yahoo!, Bing and others. It also connects social media websites, maps and mobiles and syndicates by creating a comprehensive listing for your business. This is one of the best platforms to synchronize your business in a comprehensive way. Instead of having individual listings on various websites you can just use this website to synchronize with other directories.
Foursquare.com
FourSquare puts your business in a strategic manner in the directories. It also guides the customers to your business and you can also keep a track of how many people viewed your listing in a day/week/month and more.
Yellowbot.com
YellowBot is a platform where you can advertise, write, tag, and share your business interests. They also monitor your business progress and send out frequent reports to you. Using this platform, you can also send out flyers for your escort services agency.
Now that you know of the top listing websites, ensure that your escort business /adult entertainment services are listed in the right places. Also, keep in mind that almost all the other directory listings invariably depend on Google for services, like maps and directions.
If you want Vibrator Sex Toy, Please visit Love-sextoys.co.uk and select an item.