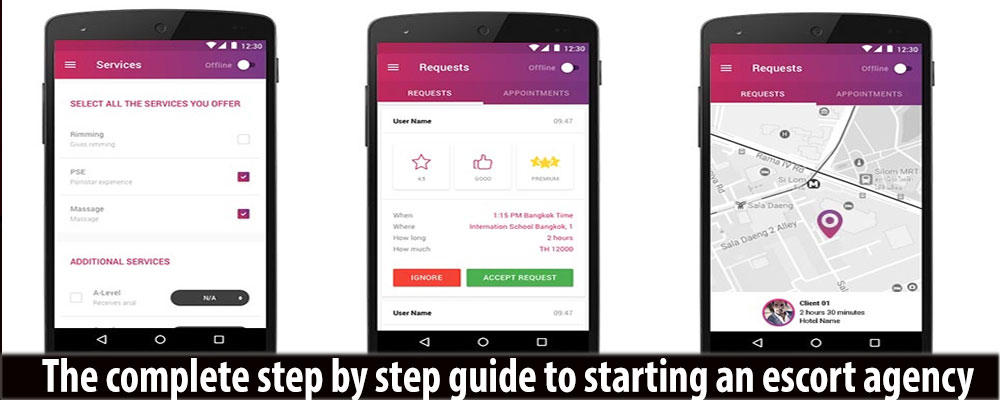 01 March 2019
Escorting business is an attractive opportunity for anyone looking to make some good money without much effort. But it is not that everything is easy rather you have plan everything meticulously to ensure that you are able to establish a brand name for yourself.
With the rising popularity of internet, it has become possible to start an escort business from your home with help of a website. Nowadays, clients also do not like to visit the premises of the agency for availing the services, they prefer to check out the girls, their profile, their pics, and book appointments through the website. This saves you from a lot of initial investment which would otherwise have gone in establishing an office. There are some important steps involved in starting an escort agency that you must follow: –
Registration of business
You have to understand that in some countries, escort business is banned. So, before you establish an escort agency, you ned to see if it is legal in your country. Once you have ascertained that, then proceed ahead with deciding on the structure of your business. You can choose between sole proprietorship, partnership, LLC or a private limited company. While you are taking a decision on this aspect be very careful as each of these organisational structures has its own pros and cons.
Then you have to get your business registered with the statutory authorities and obtain documents like certificate of incorporation, business license, insurance cover, employment agreement etc. Only after you complete all these processes, can you go ahead with your business plan.
Shorting-in on a name
You have to select an attractive brand name that will be used to promote your business. This name has to be different from the registered name and must have some quirky elements to be attractive to prospective customers. When you have selected a name, make sure that there is no other business with that name. Then you should get a website registered with the same name.
Prepare Your website: – Firstly, you need to plan your escort agency website. This requires you to contact a website designing agency. They have some templates ready from which you can choose or design your website from the scratch. So, you must prepare the content you need to put on the website along with the pictures and profiles of the girls.Then, you need to identify your target customers and the range of services that you are going to offer. Having a focused approach will help your escort agency become popular with your target client group. There are some essential elements that must be present on your website, such as: –
Gallery section
Online appointment booking form
Online payment gateway
Contact Us form
Contact details of your business
Booking policies, terms and conditions
ROTA (availability of girls)
Charges and range of services offered
Gather profiles of escort girls: – No escorting website can function without the pictures and profiles of some sexy girls. Once you have identified your target customers, you have to enlist those girls which meet the client expectations. This requires you to create a section for interested girls to apply to be listed on your website. Additionally, you can contact independent escort girls listed on other listing websites to create their profile on your website.
Start spreading word of mouth: – It is very important to start spreading word of mouth about your escort agency. As you can not openly advertise your services you will have to take the unconventional route wherein you will contact hotels, tour guides, cab drivers, event planners, party planners and other people who have regular interaction with business clients.
Online marketing: – As the SEO of your website is going to take some time, you must start with use of online advertisements such as Google AdWords. This is an excellent way of appearing on top of search results and get the attention of the clients. You can also post your banner ads on other websites where customers seek information about escort agencies.
Start your SEO: – As most customers search for escort agencies on the internet, you need to start doing the SEO for your website. You shall avail the services of an SEO agency who has plenty of experience in the field. The concept of Adult SEO is completely different from normal SEO. So, look out for an SEO agency that has experience in this line of business. This is an ideal way of ensuring that your website attracts more customers on a regular basis.
Customer Service: – Get a customer service team in place to ensure that all the queries and questions from the customers are handled immediately. This is very important in ensuring positive customer experience which translates into better business for your website.
With these steps, you can easily get your escort agency business up and running. It promises excellent returns when you put in dedicated efforts. Always ensure that you do not indulge in any banned activity because it might lead to government action against you.